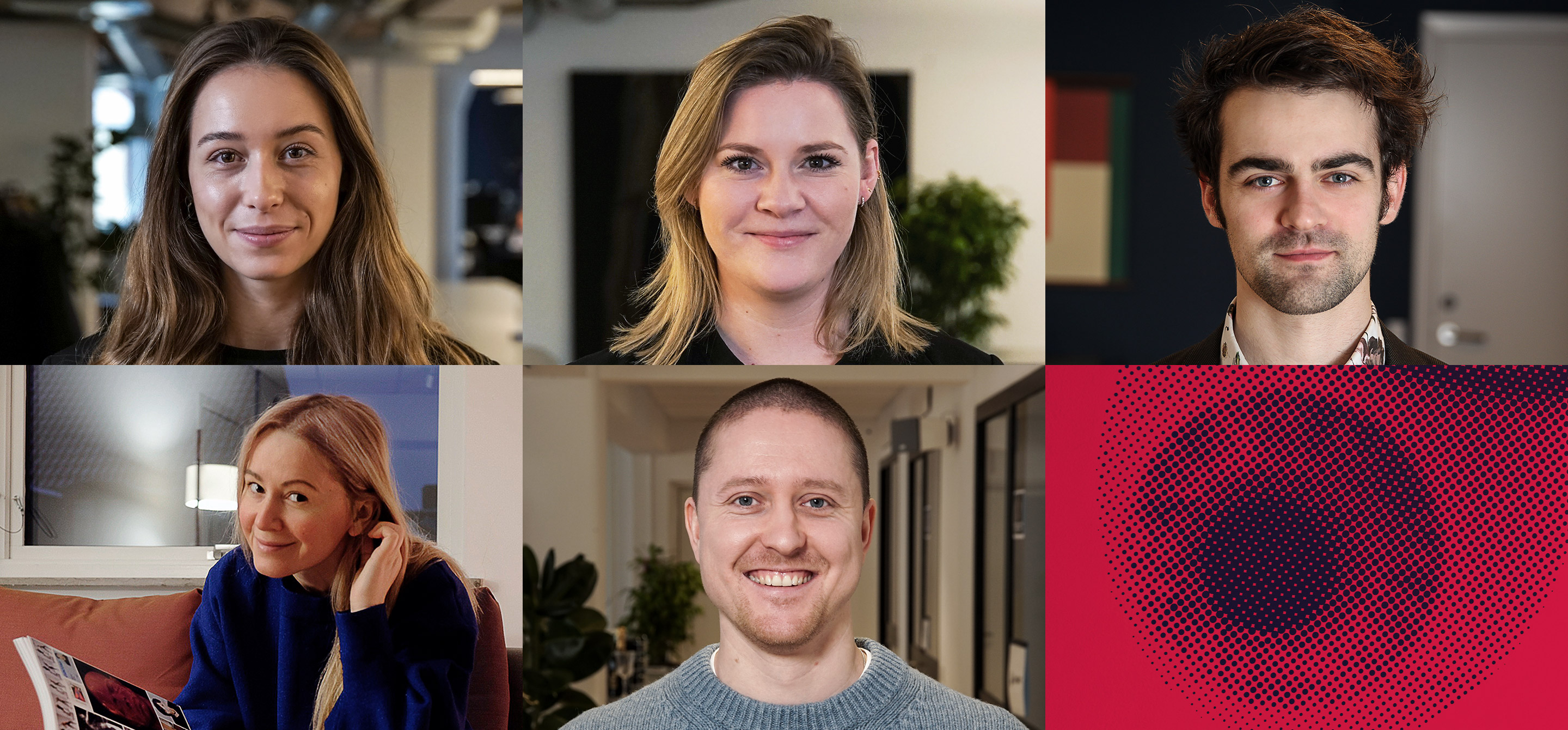 Advance welcomes 5 new profiles to the team
{
We're thrilled to announce that at the end of 2020, Advance welcomed Charlotte Ramsby, Raluca Stroe, Caroline Weinreich and Jack Gardner, as well as Alexei Patrascu at the beginning of 2021!
Charlotte Ramsby is our new Strategist and she will function as a hybrid between Client Service and Planning, supporting our team across clients and projects. Charlotte has a background as a Senior Consultant at Kunde & Co,where she worked with some of their largest international B2B clients. She is pleased to be joining an agency where everyone is collaborating closely across the organisation in the development of creative solutions. Charlotte has visited almost every state in the US and is determined to see them all, and although she lived in New York for four years, Alaska is her favourite one.
Raluca Stroe is our new Concept Developer and will work on several of our international clients, including Johnson & Johnson and ISS. Raluca began her career as a photographer in Bucharest and then decided to join the advertising industry as an Art Director. She has extensive international experience and her last position was with Yellow in Copenhagen. Raluca believes that a valuable workspace doesn't feel like work, but instead a mixture of fun tasks and nice people. A fun fact about Raluca is that she actually owns a hill in Romania, which is located in the middle of nowhere, without access to water or electricity. 
Caroline Weinreich joined us in November 2020 as our new Student Assistant, where she will support us with our Internal Marketing, Newbizz research, and ad hoc tasks. Caroline is currently studying for her master's degree in Business Administration and Organizational Communication, with a profile in public relations and marketing communication at Copenhagen Business School. Caroline is excited to learn practical skills and gain experience surrounded by great people, and she's always up for a chat, whether it's about how she can help out with a task, or the fact she has 28 houseplants (and a dog) in her 48m2 apartment.
Jack Gardner has been a freelance Copywriter at Advance since January 2020 and has now joined our team full-time. Jack will be working with LEGO, where he's a part of the launch of the LEGO website creation "Adults Welcome", but he'll also chip in across our other clients. Jack is looking forward to broadening his work within Advance, and is especially excited to work closely on projects with so many wonderful people. Jack is a creative soul, and besides being a Copywriter, he once took part in a Shakespeare performance for an audience that included Prince Edward, who he proudly got to meet afterwards.
Alexei Patrascu joined our team in January 2021 as a Digital Designer, where he will develop and create digital visual solutions for our clients across the agency. Alexei's background is in the fashion industry, where he created and designed digital brand identities and prints. With his extensive skills, he's looking forward to working at Advance with an exciting team in the process of co-developing impactful designs and visual solutions. Besides his interest in digital visuals, Alexei loves to train his balance, riding the waves on his surfboard or speeding through Copenhagen on his longboard.
Reflecting on the new colleagues joining our family, Jens Krog, CEO at Advance, notes:
"It's exciting to welcome new colleagues with so different backgrounds and skill sets. It truly reflects the dynamics in our industry with new types of international and digital assignments. Although we currently mainly work from home due to COVID-19 our new colleagues have managed to get a running start in the Advance Family."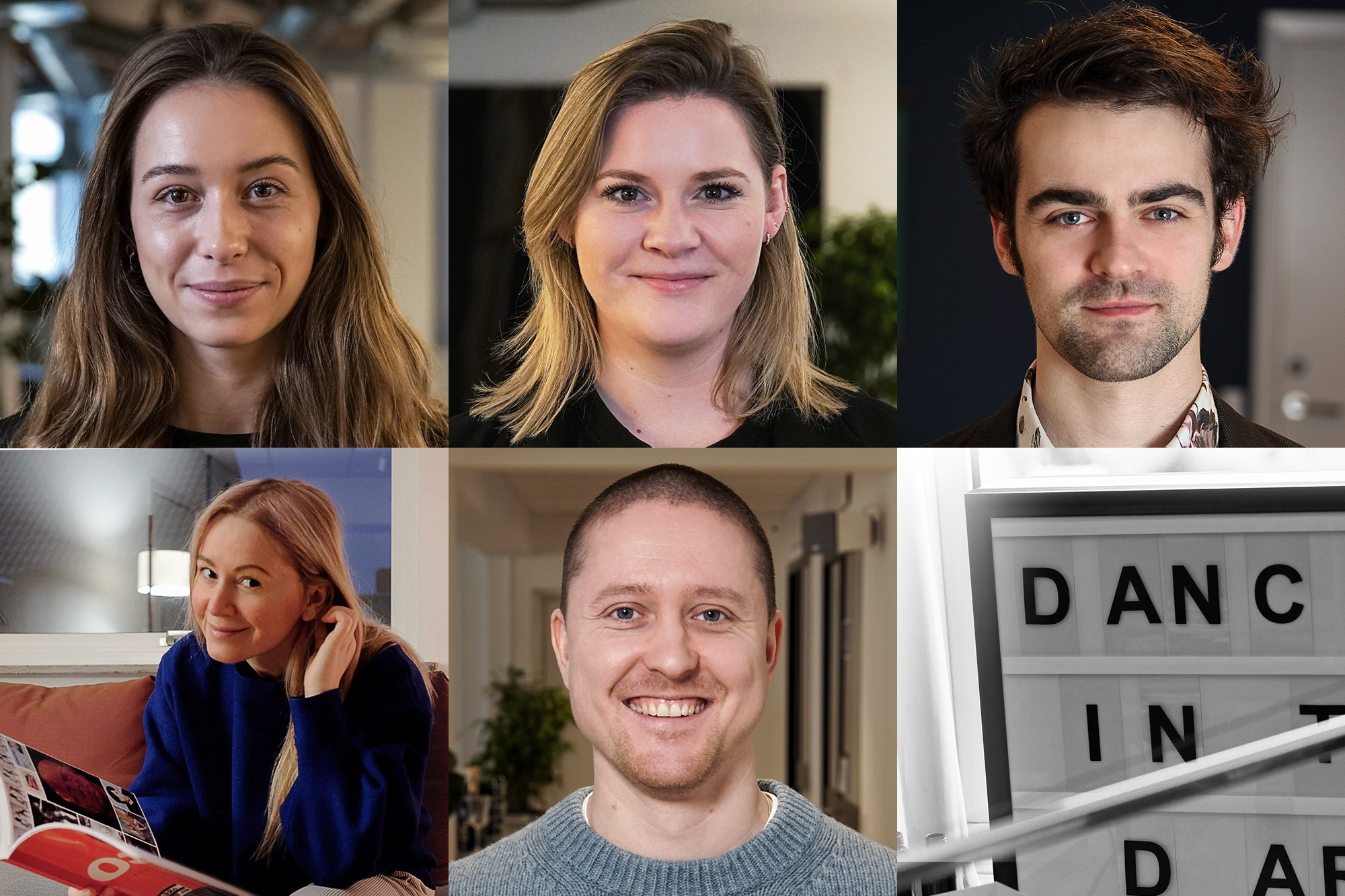 From top left to right: Caroline, Charlotte and Jack. From bottom left to right: Raluca and Alexei.